This is how we Prioritize your Success
When you are exploring alternatives…
Q. Why should we choose your company?
Ans. To be apt and to the point – We believe in helping you succeed first!
Integrative has prioritized its customers' success and will always do. We believe in doing so, we will invariably succeed.
22+ years old in the software development industry, Integrative is headquartered in Chicago and is trusted by its clientele  Globally.
Focussed on Microsoft Solutions, and IBM iSeries platforms,
250+ Experience & Certified IT Experts
Have delivered success to about 1150 projects to date
85+ clients globally, who believed in us, and we helped them succeed first
Interactive's prime focus is to deliver IT solutions that support the business strategy….that's it!
We aim to put our hard-earned expertise to work, innovate and deliver your projects at twice the speed, and half the cost to help you succeed in this highly competitive marketplace
Our proprietary software delivery model  promotes  a collaborative approach to  develop business solutions to meet your unique business needs.
Integrative implies no fancy promises and flashy advertisements to grab the attention of customers who are looking for real-time solutions. Integrative extends a promise of fulfilment to create an impact and deliver "best in class" IT solutions.
Q. What makes you better than your competitors?
Ans. The 22+ years of legacy, building innovative and holistic solutions to the unique business problems that our customers bring to us is what makes us outshine the league.
We are very  focused on doing "what we are good at" and saying "NO, to what we are not good at". on understanding problems before we actually start working on solutions. And, we believe, this approach gives us an edge to understand our customer and their problems better.
All our projects are led by seasoned software development experts This helps our customers to leverage proven expertise in their area of work.
We are driven  to achieving your business outcome  and these are supported by our proven time tested processes.
The workforce that will work for you is experienced and certified. And, this rapid market responsiveness of our IT experts is open to your disposal.
And, one more thing to highlight is our client's hailing for our active 365 x 24 x 7 post-delivery support. We always listen to you, from concept to solution, from change requests to feature revolution, we have got you covered.
Yes, exits could be dreadful, but not when you work with Integrative. We, at Integrative, believe in earning your trust, and to avoid friction we set out clear exit strategies that are mutually agreed upon.
We don't bind any of our customers into any long term contracts. Our exit clauses are usually of 30 days, and that too for the contracting purpose. If our customer arrives at a conclusion that they no longer require our services, we pack our bags and ready to move away the next day.
Our goal is not a repeat business from you, but to make you succeed with the solution that we architect for you.
Q. Why should you do it now, as opposed to the next year?
Ans. There is no specific time to develop a business solution or to modernize a legacy business solution.
But, an ounce of prevention is worth a pound of cure!
Technology today is breaking its own milestones, and as much brighter as technology has, there is a darker side too. And, we have to have our thoughts aligned on this.
The increasing security threats can put your legacy system and your precious data at stake. The security provisions that you are damn confident about are certainly good enough to stand the ground, but not enough empowered to stand cyber-attacks, are they?
All that a hacker needs is a weak link in your system and you will be out of business in a course of a few minutes. Data theft is a serious threat and demands a modern-day preventive solution.
The global business software and services market size was valued at USD 429.59 billion in 2021 and is expected to expand at a compound annual growth rate (CAGR) of 11.7% from 2022 to 2030 – Grand View Research
With these numbers to advocate the rising demand for IT software and services, application modernization in time can save you considerable costs and get you a competitive edge.
Now, that we have touch-based the ground of why it's worth seeking application modernization, let's dwell on the benefits that it drives in.
Improved Customer & User Experience
Application modernization is a great opportunity to revamp the user interface and one should never miss this. After all, today customer/user experience is counted among the success parameters and it makes the application more approachable and easier than ever.
Identify & Seize Critical Business Gaps
If you are using legacy software, application modernization is your chance to revisit and fix critical business problems. It's time to identify process patterns that are clogging your team's productivity and fix them to make the system more efficient.
Bring Automation to Play
Now, that you know the typical patterns for redundant errors, may it be manual or system-led, it's time to root them out of your way. Automation can save you a considerable amount of time and manual effort.
Make the Data work for you
With legacy systems, extracting data insights is one of a task. Application modernization enables you with the capability to extract actionable data insights and make effective business decisions.
Q. Why shouldn't you do it in-house?
Ans. In-house software development is actually more than it looks like.
Having an in-house software development team is a privilege to have But to compete in today's hyper competitive market place, we need a team that is agile, ever responsive to customer needs and constantly upgrading itself – and we have mastered this with our proprietory ISM – Integrated Sourcing Model.
If you still find it beneficial to have an in-house software team, try to figure out your answers to the following questions:
I feel – The questions here should be more emotional and personal – rather than project oriented. For example.
What would it cost you, if the project is not delivered as per the business's expectations?
What would be the loss, if we cannot respond in time to business emergencies?
What is the complexity of your project?
Do you have the technical expertise to interview and hire candidates who could be the right fit for your project?
Do you have a recruitment team to execute the hiring and joining procedures for your project?
Have you thought of a good retention strategy to keep the resources loyal to your company & project?
What will the in-house software team do once they are done working on your project?
How will you ensure they don't leave you in the middle?
What if you land a wrong hire?
The average cost of a bad hire ranges from $17,000 to $240,000
– Business News Daily
In-house hiring can backfire ruthlessly and that is why it should be the last option to think about when you are planning for legacy software modernization or software development.
IT team extension can be a reliable alternative.
Here's why:
Low to no risk of landing wrong hires
Access to a global pool of technical talent
Access to the domain and technical expertise
Confidentiality contract to maintain the project's integrity
No supervision overheads
Gain full control of the project workflow
IT team extension is as good as having an in-house team, working for you from an off-shore environment.
Integrative appends IT team extension to the next level with its Proprietary Integrated Resourcing Model which is durable, scalable and cost efficient
Durable: From the outset, the team has the right skill set for your needs
Scalable: The team can be scaled up or down depends upon the economic or business requirements
Cost efficient: with operating models that will save upto 30 to 40% cheaper – year over year.
When you are looking for confidence…
Q. Have others bought the service in our industry?
Ans. Integrative, in its 22+ years in business, has helped 85+ clients to achieve their IT goals with cutting-edge innovation. Over the years, we have got opportunities to deliver success to about 500+ projects, coming from various domains and industries.
Having said this, one thing is for sure, software development services have observed peak progression in the past years and are heading toward the next mile.
The global business software and services market size was valued at USD 429.59 billion in 2021 and is expected to expand at a compound annual growth rate (CAGR) of 11.7% from 2022 to 2030.
– Grand View Research
CIOs and CTOs across industries prioritize business software development and legacy software modernization in their annual goals.
Here are some advantages that empowering IT brings:
Business Process Optimization
Improved overall system efficiency
Better and clearer data insights
Competitive Advantage
Bottom line is, regardless of focusing on others in your industry and checking if they are investing in IT services, you should do it. It's a leap that you should take to put yourself ahead in the race and beat the competition.
Q. Do you have an Office in our market/territory/region?
Ans. Headquartered in Chicago, Illinois United States, Integrative also have an office in India. Integrative is a trusted software innovation partner for SMBs and Fortune 500 companies across North America and Canada region.
Integrative extends its IT Extension  services with its Proprietary Integrated Resourcing  Model. This model is comprehensive and operates at all the 3 levels – Strat layer, Tactical layer and the Delivery layer. This service enables the business leaders a capacity to scale their augmented team up and down, as and when needed depending upon the changing project requirements.
Multi-locale presence in the US and India has enabled Integrative to serve its customers better. Integrative utilizes the sheer difference of approximately 12 hours in the time zones to its advantage and serves its customers 365 x 24 x 7, seamlessly.
And, this means when you are asleep embracing your peace of mind, Integrative's IT experts shall be working on a mission-critical feature of your project. When you start your morning the next day, you will get to see things in action.
IT Staff Augmentation is a flexible approach to software development. As you must be aware, you can choose to work with an Off-Shore team working as an extension of your in-house team. Or simply choose to go with an On-Site/On-Shore team that is deployed to your own environment to work on your project.
Integrative extends both On-Site and Off-Shore IT Staff Augmentation services and delivers 360-degree services for IBM AS400 iSeries, Microsoft Applications.
Q. How Strong is your company? What kind of financial backing do you have?
Ans. Strong enough to prioritize our customers' success!
Integrative is a completely bootstrapped, value-driven venture and has shaped up well in its 20+ years of tenure.
Integrative, both US & India operations are 100% owner funded with no equity diluted. And this implies no pressure from venture capitalists or investors.
This allows us the liberty to preserve our core values, stay flexible and adaptable, and extend and evolve to help our customers succeed.
For the past three years, despite the pandemic Integrative has made it to the INC 5000 – The Fastest Growing Private Company in the US. Integrative observed an average of 50% Year-on-Year growth, which is a rooting parameter to be in the INC 5000 list.
To sum it up, Integrative owns the courage to say 'YES' to what they do really well and 'NO' to what they don't find themselves competent at. And this courage allows the bandwidth to innovate and deliver success.
Q. Has the service been tested, verified, or certified by any independent organization?
Ans. Yes, they are. Integrative has been in business for more than 20+ years now. Working with 85+ clients across the globe has enabled Integrative an opportunity to mature in the processes that we follow and the standards that we abide by.
INC 5000
INC5000 features 5000 fastest growing companies in the US. Integrative has qualified for INC5000 for three consecutive years with an average of 50% revenue growth year-on-year.
Microsoft Partners
The global Microsoft Partner Network is surmounted to 400000 and Integrative takes pride to be a Microsoft Certified Partner. This association enables Integrative to provide service & support for all Microsoft-powered products & services.
IBM Silver Business Partner
Integrative is a recognized IBM Silver Business Partner. Integrative has demonstrated its expertise in IBM AS400 iSeries solutions and a great record of bringing success to its customers.
Rated by Good Firms
Integrative has been rated 4.8/5 by Good Firms; a review and rating site for top software and service provider companies. With a 90% client retention rate Integrative is earning the trust of its customers by helping them succeed first.
Great Places to Work
Integrative being a people-focused organization has been a significant part of its success strategy. Integrative follows an egalitarian culture, where we foster a fair and equitable culture that helps the workforce grow professionally and personally. To have earned a reputation as a great place to work is a token of the work-life balance and values that drive us.
Q. Is there a possibility of a Proof of Concept/Pilot?
Ans. To be apt – Yes!
Team Integrative breathes technology and is always in the quest for innovation.
If you have a concept and you are thinking of building a solution, Integrative can be your perfect technology partner who can take you from concept to solution.
Integrative not only become your technology partner but also takes a proactive strategic route to Share your business risks. We are "True Partners" to our clients. Our IT leaders with over 20+ years of earnest expertise put up every ounce of experience and research to understand your business problems.
Through the "Shared Outcome" model, Integrative helps you identify the market uncertainties, core business challenges, and project implementation risks. The team puts across clearly chalked business objectives considering the risks and uncertainties assessed.
Integrative is progressive about building pilot projects with a clearly identified scope of work and capacities to scale. We make sure that you get to see the pilot in action as expected and are inclined to have an opportunity to scale it further.
When you are looking at the cost-benefit equation…
Q. Our business is different, how can this solution work in our business?
Ans. Yes, it will! Because the solution will be tailor-made to solve your unique business problem.
We, at Integrative, understand that not all business challenges can be generalized and resolved through predefined solutions/services.
Our IT experts always care to dwell on the details of the business case you share. Understand and help you identify the uncertainties and repercussions of different approaches to solving the problem.
Integrative believes in helping its customers to solve critical business problems and not just execute IT projects. And, we do so by building custom-tailored solutions that solve the purpose for you.
Integrative works with a collaborative approach. Our IT experts not only help you with technology solutions but also takes the strategic route to map the path ahead.
Integrative is progressive about building holistic business solutions that are flexible and scalable. Earning customer trust is the priority for us and not immediate repeat business with upgrades and change requests.
We focus on building IT solutions that are future-ready and scalable.
Q. I question your figures; can they really be achieved? Can the benefits be substantiated?
Ans. We understand it's hard to believe figures when they appear too good to be true.
But, we have something to break to you that may leave you spellbound.
Let's look at our number first:
20+ Years in service
85+ clients across the globe
Delivered success to 1150+ projects
250+ experienced & certified IT experts
70% growth
Made it to INC 5000, three times in a row with an average of 50% year-on-year growth
With those numbers to advocate and the expertise that we claim to have,  here is something that consolidates it all at once.
We have successfully retained 90% of clients who have worked with us.
And, this is living proof of our core belief – We believe in helping you succeed first.
Integrative takes pride in saying 'NO' to projects that they don't find themselves competent at, and only says 'YES' to what they do very well. We deliver what we promise and it's evident through the customer testimonies.
Q. What is the return on investment?
Ans.The return on investment varies for each project and is   largely categorized depending on the following factors:
Type of Project – Building from Scratch/Modernize/Upgrade
Business Objectives discussed and included in the Scope of Work
Factual Parameters like – System Performance, Operational Efficiency, etc.
Investment Metric across the benefits promised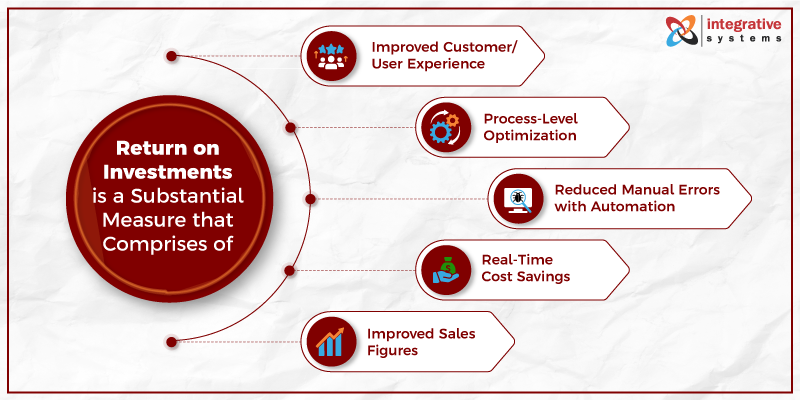 Here are some business objectives that substantiate positive ROI:
Improved User/Customer Experience
User/Customer facing applications are mission-critical. Bad user/customer experiences can literally turn things upside down for your business. Focusing on front-facing applications can help you boost the user experience and improve productivity. Comparing the user experience and productivity levels can be a good parameter for calculating the ROI.
Process-Level Optimization
Obsolete business processes can turn out to be a bottleneck for your business growth. Identifying the process level gaps and optimizing processes can put you ahead. Process optimization can save you time, effort, and money to an extent. You can count on this while calculating ROI.
Reduced Manual Errors with Automation
Every business model has some or other mechanical tasks and operations that can be automated. Automating mundane tasks can shred off redundant manual errors, in one go.
Real-Time Cost Savings
When you are using a legacy system, compatibility doesn't allow you to integrate APIs and third-party apps. And, you end up spending a lot on the add-ons. When you modernize your business solution, you can get rid of these worrisome overheads. Considerable cost savings can be observed when compared.
Improved Sales Figures
Nothing can beat this parameter as this shares a direct correlation with the ROI. When the complete system exercises an overhaul, you expect greater ROIs for all the good reasons. The system and processes become more efficient and ultimately reflect onto the sales figures.
The direct and indirect parameters that we discussed above can give you substantial ground to measure the ROI. An investment in a business solution will always reap positive ROI if done right.
Q. What is the cost?
Ans. The cost of developing or modernizing a business software may vary depending upon a select few factors.
Let's understand the cost-defining factors:
The complexity of Software Projects
The complexity of the software projects is the major driving factor, especially when we are discussing the costs.
Let's assume that your company is using legacy software – IBM AS400 iSeries. With the changing business needs, you choose to go with IBMi modernization. This means you are not dumping down the system you are using completely, you are modernizing it with a few new features. The costs, resources, and infrastructural investments are limited in this case.
On the other hand, If you want to taste the market with a Minimum Viable Product, the incurred costs would be relatively smaller.
And, in case you are thinking of building an end-to-end complete business solution, then the costs are going to be higher than the other two possibilities that we discussed above.
Technology Stack
Technology Stack is yet another crucial factor when it comes to deciding the cost of development. Depending upon your project requirements, your software development partner advises you on the technology stack to work with.
If you are an enterprise looking for a robust and reliable technology option, hands down AS400 iSeries is an indomitable platform.
And, if you want to build a compelling web front, Microsoft dot net offers a wide range of technological choices.
Type of Hiring Model you choose
When you work with an outsourced software development company, the hiring model plays a crucial role in carrying out the costs.
There are three different hiring models that you can choose to work with:
IT Team Extension Model
As the name suggests, in this model the augmented team of IT experts works as an extension of your in-house team. You get access to the best-in-class expertise and you pay them at a fixed hourly rate for the hours billed.
Dedicated Team
It's an outsourced development model where a team of IT experts works dedicatedly on your project from an Off-shore environment. You pay them monthly wages till project completion.
Fixed Price
As the name reads, in this model the scope is firmly defined and prices are fixed, unlike the other two models. This is best suited for small projects where the scope is limited.
Considering the above-mentioned factors, the costs to build a business solution are carried out.
We, at Integrative, believe in solving problems rather than just building IT solutions. We focus more on how the business solution drives value to your business. Depending on the factors discussed, Integrative strives to save costs and deliver the solution at twice the speed.
Q. Why is it so expensive? What is the total cost of Ownership?
Ans. Yes, it does look expensive from a customer's end, but it includes a lot of overheads that go unnoticed but serve a crucial purpose.
Let's understand what the Total Cost of Ownership is.
Total Cost of Ownership is a complete financial estimation to help the customers and vendors understand the direct and indirect costs incurred to build a system or product.
TCO = Sum of all direct and indirect expenses
Now, let's break down various factors that formulate the TCO
Development Costs
This includes the total costs incurred in building the business solution. This may vary depending upon the scope of the project, the hiring model chosen, man hours put in, lines of code written, APIs and third-party integrations engaged, database structures created, and lastly the specific hardware infrastructures employed to put the system together.
Deployment Costs
The deployment appears to be simple but is one of a task when it comes to execution. A lot of back and forth, performance testing, load testing, stress testing, and User Acceptance Testing goes by before the deployment. Creating and ensuring the infrastructural arrangements take time and can cost you significantly.
Data Migration
When you have data sitting on legacy servers, it's mission-critical to transact the data to the new system. Compatibility checks, security enforcement, and data transmission can be time-critical. A small weak link left over can cost you all your business.
Maintenance & Support
Maintenance & Support post-development is indomitable. It is always better to have it discussed before you finalize the software development partner. A lot of development companies include the first year of maintenance & service fees in the development costs themselves. Once a year passes, it's time to revive the annual maintenance contract, which can be paid on a monthly or annual basis.
Relationship Termination Costs
When you work with a software development partner, it is counted among the positives of having a faithful and lasting relationship contract. But, if things start going against the flow, the final call you can take is to opt out of the professional relationship. It's of vital importance to discuss these costs upfront, as this may create chaos later if you run into rifts.
Time Cost, Energy Cost, Psychic Costs
Time: This is the amount of time you spend on finding, evaluating, purchasing, and making other decisions regarding the project. High-engagement projects have high time costs.
Energy: This is the degree of physical effort applied by you in finding, evaluating, purchasing the ultimate solution, and implementing it.
Psychic: This is the cost associated with the dissatisfaction and frustration of the customers with the services. These costs can occur during different phases of the purchasing process.
Total customer cost means the cost a customer wishes to pay in searching, investigating, buying, keeping up, and acquiring a certain service offering.
Customer Value = Perceived Benefits/Perceived Cost
Value = Functional benefits + Emotional benefits
Monetary costs + Time costs + Energy costs + Psychic costs
We play on both, the numerator, and the denominator by trying to reduce the cost parameters and increase the benefits.
Cost is more than just dollars.
As you can see from the equation above, we will nullify the frustration, dissatisfaction, or added stress due to bad quality of services, while increasing the clear and predictable benefits.
Integrative is progressive about fostering healthier customer relationships and thus reserves no hidden costs that pop up at the eleventh hour. The agenda is to keep the costs at the lower end and add maximum value.
Our IT experts endeavor to help you save costs and reap great benefits from this one business investment that you decide to make.