"Every business is a software business" – Watts S. Humphrey.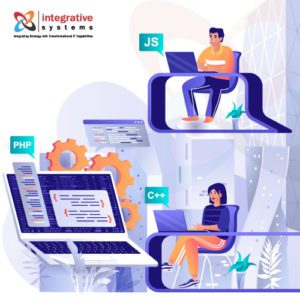 You cannot survive in the market without quality software.
Software plays a vital role in making or breaking a business. The right software can boost overall business productivity, streamline operations, and create an amazing customer experience.
So, what you will do if you need a perfect software for your company? At first step, people go for out-of-the-box solutions, but usually, they are not enough to effectively manage all the processes at a company. That is where a custom software development firm comes in.
What is Custom Software Development?
Custom software development is the process of designing, creating, deploying, and maintaining software for a specific set of users or organizations. A custom software development firm mainly addresses the needs, like:
A warehouse management system for an equipment manufacturer
An online banking app for the exclusive requirements of the bank
Are you looking for the best custom software development company for your project? A quick search on the internet and you'll get hundreds of results in front of you. But from those, you must partner with a firm that can help you with business integration solutions, security, and many more business-centric requirements. The article is intended to give you an overview of how you should go about while choosing a custom software development company that will be the best fit for your requirements.
Before Taking A Step Ahead
To create an ideal software, it's important to first find the best custom software development company. But before that, you must focus on an important area: having clarity about customized software and the underlying principles. Have a look at the checklist below, and you'll get an idea if you really need a custom software development company:
What business goals will the customized software help you to achieve?
What business problem will it solve?
How will customized software help in increasing the ROI of your company?
What features and functionality will the software have?
How much time will it take to develop the software?
What is your company's budget, and how much are you willing to spend on a customized software?
According to a GoodFirms survey conducted in eight countries and on 150 IT companies, around 53.8% of companies said that sticking to clients' continuously changing requirements is one of the significant challenges in the software development process. Although projects undergo regular changes in the development process, it happens due to lack of clarity or, in simple words, it says that you must have a goal in mind before starting the project. This will save & reduce software completion time and will avoid multiple redevelopments.
Ways to Find the Best Custom Software Development Company
In-depth Research Is Important
Before choosing a company, it's a good practice to know the company well. For this, you should take a close look at the company website, their team, their experience in the same domain, the technology they are using, and projects they have completed. The technology check is most important as it will shed some light on their capabilities to complete tasks. Furthermore, it would help if you also looked at the company's social media presence, as there you can read customer feedback and keep it in mind while making any decision. And finally, you can read company blogs to get information about their technical knowledge.
Take Help from Your Network
Speak with your counterparts to get some references about reliable custom software development companies. This is one of the best ways to get honest feedback before engaging with any vendor.
Pro tip:
Here are a few pointers that can help you while talking to some experienced professional in your network:
Did the company ensure clear communication?
Did your project undergo redevelopment?
Did the company complete the project within the defined time limit?
Did they exceed the budget?
What about the after-sales services of the company?
Ensure Hurdle Free Communication
Before starting the work:
1. Get to know your team better.
2. Listen to their ideas and convey your thoughts, as well.
3. Do not hold back a perspective even if you think it may sound insignificant.
Review Technology Stack of the Organization and Choose Wisely
There are ample custom software development companies and technologies and well-defined industry-standard coding best practices. Based on discussions with your custom software development service provider, make sure they can develop the software as per your business needs. Always give preference to a company that uses robust, cutting edge, and secure tools. Also, make sure your thoughts are clear on the technology stack that you want in your product. Moreover, you should ensure that the custom software development company you have chosen has certain innovative ideas and significant experience in using the technology you opted for.
Pro tip:
Software Development Life Cycle (SDLC) details defines all the phases of your product/software development. Preferring a suitable SDLC means the guarantee of successfully developed product. An experienced custom software development company offering SDLC will highlight best practices and tried & tested methods of development.
Costing Is Important
While choosing a custom software development company, its a wise decision to go for a cost-effective solution. Cost is the better way to shortlist the vendors that are offering the best value in the budget. Always remember, a high price doesn't mean a quality product, and a low price doesn't mean a degraded product as people still see it. Also, your product's timely delivery should be your priority, along with the best business demanding features. Also, keep in mind testing and debugging (if any) when defining project completion timelines.
Avoid Freelance Developers
There is nothing wrong with hiring freelancer custom software developers. But if you are looking for customized software for your business, you need to hunt down a more sizeable custom software development firm.
Try to look for the best custom software development companies with at least six in-house custom software developers. And do not forget that software development is much more than coding; that is why at a custom software company you hire should have a minimum of 2-3 project managers.
The custom software development expands far away from the initial implementation. As an organization, you'll need such a custom software services provider who has enough resources to support you in future endeavors.
Consider the Location
When outsourcing the project, you might choose a custom software development firm located on the other end of the planet just because it offers cheap services. But be careful in terms of the software development process, as cheap might be risky. And this is not only a single problem with a company located overseas, but there are many other issues -like communication barrier, culture, and language.
Here are few things to remember when choosing a custom software company from another location:
Communication:
Successful collaboration requires efficient communication. And the collaboration may fail if the custom software company doesn't speak the same language as yours in a fluent way. Custom software developers perform a tough job in development processing, but the language barrier can make it more difficult for them in terms of understanding requirements and giving feedback.
Choose a custom software company that has already collaborated with the companies of your region and speak the same language as yours.
Culture:
This is the reason that North America has become a top-rated custom software outsourcing destination. The region offers top-quality expertise and skills and provides professional culture. Partner with a custom software development company that has similar cultural elements as yours and know how to collaborate efficiently.
Focus on Project Delivery Time
Always select a custom development company where custom software developers are efficient enough to deliver projects on time. Ask for previous project delivery reports to get an idea about them. This will give you enough time to analyse the custom software company and decide (to move ahead or not).
PRO TIP: Fix the project delivery deadline in the negotiation stage as it will give you appropriate time for staff training, finding bugs, and debugging.
Look for Long Term Relationship, Not Just A Service Provider
Choose a custom software development company that is entirely entrusted to your business. A company that cares about your success before their own and is confident to work in the long term.
Ask for A Sample Whenever Necessary
Select a custom software development company that is willing to provide you a prototype whenever necessary and that too free of charge. It's always wiser to opt for a prototype providing company rather than just believing their words.
Pre-Requisites from the Customer End
Before starting the project there are some details that a custom development services provider expects from the client. Have a look at those details:
Provide Detailed Requirements of the Project
A comprehensive project plan is necessary for the fruitful delivery of the project. Lack of relevant details and unnecessary project requirements can lead to project failure. If any organization or individual is looking forward to getting their project delivered to them without delay, then project requirements must be clear to a custom development company. Incorrect requirements can also lead to lots of re-working on similar tasks. Due to which project completion time stretches a lot & sometimes fail due to funds related conflict at later stages.
Discuss with Technical Team
Once a detailed plan is prepared, details (features, scope, and project goals) must be conveyed to the technical team and they should understand it correctly. This is necessary because if you provide them a document without details, then it may be possible that the technical team would not be able to grasp it thoroughly, and the project may go off track. Moreover, written, and briefed document gives enhanced clarity if explained well. Meanwhile, practically demonstrated document is better than just written piece.
Don't Ignore the Legalities
Apart from the technical and strategic theories, overlooking the legal aspects of custom software services can be harmful for your business. The custom development company to whom you will assign the project will surely gain access to your organization's business strategy, trade documents, and intellectual property. Therefore, perform a background check to be assured about the reliability of the custom software development firm.
Here, it will be good to partner with an experienced custom software development firm because such custom software companies have proved their credibility multiple times. Furthermore, when choosing a custom software company from a different country, make sure you know how the legal implications of that country work.
Keep Check on Non-Negotiable Services
There are a few particular things that you must confirm with a custom software development company before sealing the deal:
After Sales Service
The custom software development company should be agreeing on providing after-sales support after handing over the software.
Security and Confidentiality
Ensure that confidentiality clauses must not be breached by the custom software development services providing company. And therefore before handing the software to you, security vulnerability testing must be done.
Licensing
The software entirely belongs to you or your company, you are paying for it, and you should not compromise on this at any cost. Ensure that the user license and all the rights are in your name without any hidden terms and conditions.
For the best custom software development company, you can also connect with Integrative Systems. The company is based in Chicago, USA, and has more than 20 years of experience in this domain. At Integrative Systems, we have experts having in-depth knowledge of custom software solutions and can help you with the best business solutions.
Conclusion
Considering these tips while finding the best custom development company for your project will benefit you in the long term. Moreover, these pointers will help you connect with an apt custom software services provider and help you develop a robust online presence.
Feel free to share your requirements with us at contact@integrative-systems.com and our team will get back to you within 24 hours.