The custom software development market is expected to grow by $26.74 billion between 2020-2024. And CEOs in various industries can no longer ignore the importance of hiring a custom software development company.
Statistics show that more companies around the world have decided to develop their own software over the years.
Why so?
Because by developing custom software, you can grow your business as efficiently as possible. And your competitors know that.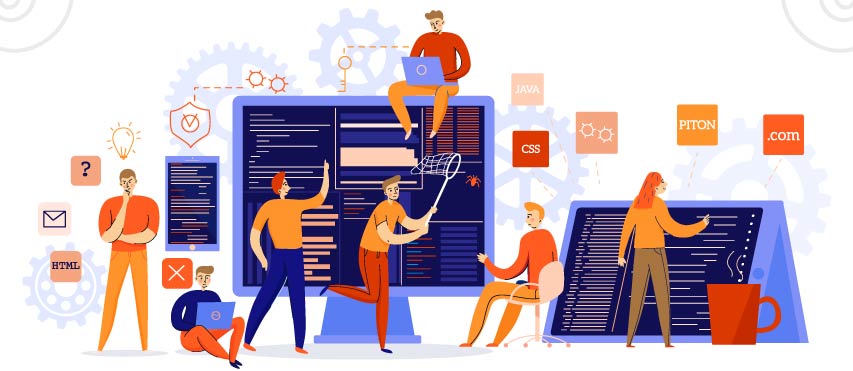 This article will tell you that technology is completely changing the business landscape and enabling business growth. Moreover, you will get to read about business performance in custom software development and the latest technology.
Importance of Custom Software Development
The importance of technology has become critical for business efficiency and overall business success. CEOs should support decisions of custom application development in their organizations to enable digital transformation and increase business efficiency.
Let's understand this thoroughly.
Technology and Business Experts are Required to Collaborate
IT solutions support businesses and promote seamless collaboration between technology experts and business users.
CEOs need to include CIOs in leadership and technology-based discussions to accelerate a company's growth.
Benefits of Custom Software Development for Business
Using custom software solutions can reduce the time and cost of doing tasks. You can facilitate communication and grow your business as needed. But this is just a tiny part of the benefits you get from custom software. Have a look at the five valuable benefits for your company that come from developing customized software.
1. Automation of Manual Tasks
With the dedicated software, it's easy to speed up your tedious tasks. Many custom software solutions are created using artificial intelligence and machine learning techniques (instead of off-the-shelf solutions).
These digital installations teach you to identify recurring elements and automate their work, allowing your employees to focus on the more essential tasks. Artificial intelligence and machine learning are fundamental to data-based decision-making.
2. Running More Comprehensive Analysis
Custom software developers often offer Business Intelligence (BI) solutions to you to visualize data sets. It combines business analysis, data mining, data visualization, and transparent data and infrastructure tools.
Business intelligence converts data into actionable insights that support business decisions, including holistic analysis.
With BI, you can create reports, summaries, dashboards, graphs, charts, and maps and get real analytical value. So, instead of manually gathering information from different parts, your analytics tools do it for you. Data is available every second.
3. Easy Integration with Existing IT Solutions
Companies use different software solutions to run their businesses. Dedicated software can collect data from these solutions using the Open API and create a communication highway.
By quickly exchanging information across various IT tools, it is easy for you to set up a data center and grow your company quickly.
4. Security Under Control
Digital security is a big deal right now. The market is growing very fast due to fast working cybercriminals. But!
Due to the large population using such solutions, cybercriminals are attracted to off-the-shelf software. This means they avoid unique software developed just for one company as the chances of success are low here.
Another advantage of developing a custom software solution for your company is that you will have complete control over the creation of security layers. For example, you can implement blockchain or its alternatives to ensure transparency of transactions. In other words, during the software development process, you can build a secure fortress for your business data and assets.
5. Quick Results
Thanks to the agile process, custom software development companies deliver the initial release of your product in a matter of months. It's incredibly fast! After that, you can continue to develop your software.
That way, you avoid mistakes, unwanted features at work and manage a team well. In a few months, you will see results and build your competitive advantage very quickly.
In addition to these values, your business also gets services like:
Easy Maintenance
Fast, personalized, and detailed support
t from the custom software development company
Intuitive design (UX/UI), ensuring less distraction at work.
If you lack these values in your day-to-day work, this is an excellent time to talk to your stakeholders about connecting with a custom software development company.
Now, let's take a look at some data-driven business technology assessments.
Engaging a Custom Software Development Company
Monitoring every technology is not easy or necessary for you. But it can pay off. Take a look at new technologies:
1. Decision Making and Task Automation: Artificial Intelligence and Machine Learning
Organizations are expected to gain significant momentum by adopting AI-powered applications. As it happens, decision-making and task automation are the main drivers for this.
Custom software solutions are capable of meeting all the needs of your organization – and most importantly, they are flexible, and you can make changes per requirements.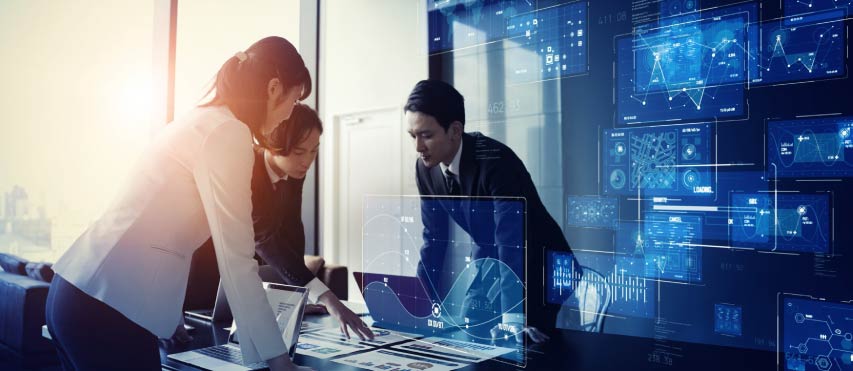 Readymade software is created to solve medium-sized problems and is not ready to adapt to changes. This only gives you partial control over your business, unlike custom software, which can give you complete control over your business and provide real value to your customers and employees.
2. Informative Decisions: Business Intelligence
48% of all organizations consider business intelligence "critical" or "extremely important" for their work. As we said before, business intelligence software helps companies make better-informed decisions.
3. For Next level Security: Blockchain, Cloud Computing, and Data Security
The average cost of data breaches by 2021 was 3.86 million. According to research, Healthcare has paid the highest price for data security issues. But the more worrying thing is that it took an average of 280 days to detect a crime.
Blockchain
There are many industries in that blockchain can change. Among them, you can find:
Financial services
Healthcare
Education
Travel and Mobility
Infrastructure
Public Sector
Retail and CPG
Agriculture and Mining
Information Services
Entertainment
How will Blockchain Implement Transformation?
There are two reasons for this:
The first reason is to ensure data stability and transaction transparency. There is no central point for processing transactions, so there is no need to involve a third party in the operation.
The second reason is that it provides encryption and authentication. You can check if the file signatures have changed at each stage of the transaction level. Thus, hacking is beyond the reach of cybercriminals.
The Main Challenge in Developing Custom Software for Businesses
The main challenge you need to consider when developing your software is time. Note that custom software solutions are created from scratch. This means that you will participate in many meetings, policy decisions, mail exchanges, etc. All of these tasks are time-consuming.
Other parts of the development process are:
Design
Coding
Testing / Quality Guarantee.
Depending on the project needs, this can take weeks to months. But we can assure you that it is profitable.
Summary
The above things clearly show that technology plays an essential role in running a business. Fast-growing companies invest in technology to create data-driven strategies that align with business objectives and drive business growth and improvement.
CEOs can no longer delay making decisions about developing customized software.
Without proper improvement, business growth can be boosted, and the company can become competitive.
Integrative Systems offers professional consulting and administrative services in custom software development. If you need a partner for your custom software application development. Contact us and start your project today.
Feel free to send us an email at contact@integrative-systems.com, and someone from our team will connect with you in 1-2 business days.
About Integrative Systems
Integrative Systems is a leading custom software development company. We are based out of Chicago and have experience of more than 20 years in this field. We are recognized by INC 5000 as one of the fastest-growing companies in the USA